The vertical shaft impact crusher is a highly efficient crushing equipment which is widely applied in the fields of mining, building materials, highways, railways, water conservancy projects, and other related industries. The unique characteristics of this product make it a crucial player in the crushing industry.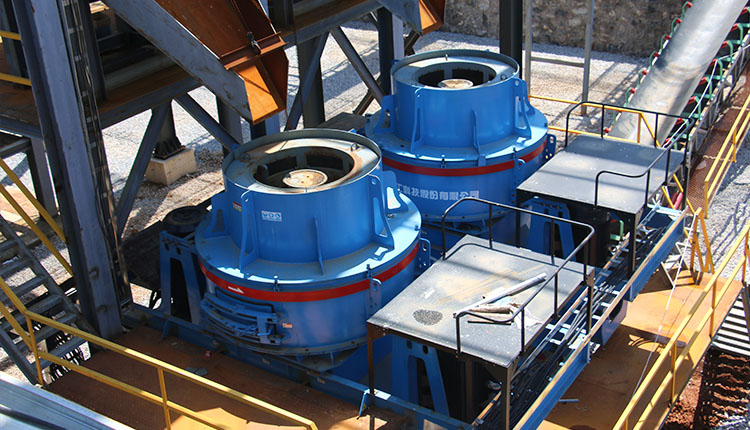 1、The vertical shaft impact crusher has the characteristics of simple structure and easy operation. The equipment comprises of a feed inlet, rotor, impact plate, discharge outlet and other components. Its overall structure is compact, facilitating easy installation and maintenance.
2、The vertical shaft impact crusher has high levels of automation. By utilizing sophisticated electrical control systems, the operational procedures can be automated. The equipment can be intelligently adjusted based on material characteristics and production requirements, thereby enhancing production capacity and equipment stability.
3、The vertical shaft impact crusher has high processing capacity and crushing efficiency. The design concept is based on the principle of impact crushing, wherein the crushing effect is achieved through the collision and friction between a high-speed rotating rotor and the material. This crushing technique can effectively enhance the material's crushing efficiency and output, while reducing energy consumption and production costs.
In addition, The vertical shaft impact crusher exhibits strong adaptability as well. The equipment is capable of adapting to a wide range of material hardness and humidity for efficient crushing operations, including limestone, gypsum, coal, and other similar materials. The crusher can be adjusted to meet various production requirements, enabling coarse crushing, medium crushing, fine crushing, and other material specifications.
Vertical shaft impact crusher has a wide range of applications in practical applications. First, in the mining industry, vertical shaft impact crushers are often used for the initial crushing of ore and breaking it down into the appropriate particle size for subsequent beneficiation processes. Secondly, within the building materials industry, the vertical impact crusher is capable of breaking down large stone pieces into aggregates that meet precise specifications and are utilized in concrete mixing stations, road construction projects, and other applications. The vertical impact crusher can also be utilized in water conservancy projects and railway construction to effectively break down construction waste and other types of waste.
In brief, the vertical shaft impact crusher assumes a pivotal role in the crushing industry owing to its simply structure, effortless operation, high level of automation, efficient processing capacity and extensive adaptability. The application of this technology is extensive, encompassing mining, construction materials, transportation infrastructure, water resource management and other fields. It has played a positive role in advancing the development of these industries. The continuous progress and innovation of technology will drive the future development and growth of vertical shaft impact crushers, enabling them to meet the increasing market demand.