The amplitude of stone crusher vibrating feeder can be adjusted in accordance with the excitation force during operation. The vibrating feeder is characteristic in stable vibration, smooth operation, and low running cost, which is the ideal feeding equipment for continuous and uniform feeding of the coarse crushing equipment.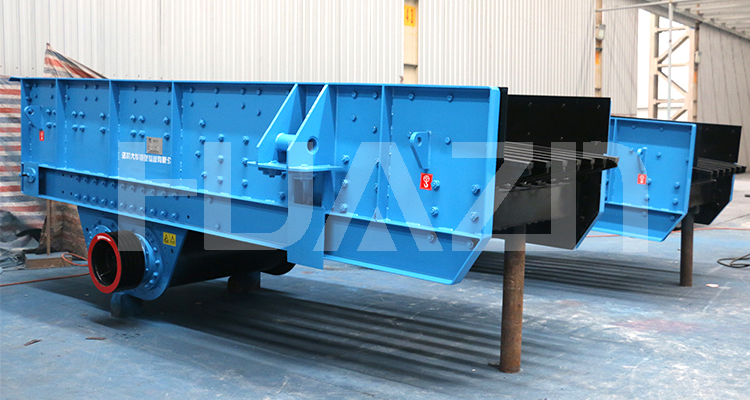 Introduction of stone vibrating feeder
The smooth production of the entire stone production line relies solely on the stone vibrating feeder's ability to provide uniform and precise feeding. Generally speaking, the selection of equipment in the production line is typically based on customer requirements, desired stone granularity, and the intended application of finished stone products. The choice of vibrating feeder depends on the required feeding amount.
Application of stone vibrating feeder
Due to its simple structure, easy operation, excellent adjustability, and remarkable flexibility, the stone vibrating feeder plays an indispensable role in the entirety stone crushing production line. The utilization of this technology not only reduces labor and costs, but also significantly enhances the production efficiency of the stone crushing production line.
Selection of stone vibrating feeder
The purpose of the stone vibrating feeder is to ensure a uniform and continuous feeding of stones. When selecting the vibrating feeder, it is crucial to consider the following three points.
1、The feeding capacity of the vibrating feeder should be compatible with that of the primary crushing equipment.
2、Confirm whether the stone to be fed contains a large number of mud, powder and other unnecessary impurities
3、The location for installation of the vibrating feeder needs to be determined based on the specific requirements of the production site.
The vibrating feeder of Luoyang Dahua has a capacity ranging from 150 – 1250 t/h, with a feed size of 500-1200 mm. The Luoyang Dahua vibrating feeder boasts a substantial capacity, a simplistic structure, a comprehensive range of models, effortless operation, and cost-effectiveness when compared to conventional feeding equipment. If you don't know how to choose the crusher equipment, please consult the Online Service, we supply customize solution for the customer.